"Performing Life"
David Dorfman
(Professor of Dance, Connecticut College, Artistic Director, David Dorfman Dance)
Memorial Chapel
November 12, 1:15 pm
Introduction: Hari Krishnan (Professor of Dance and Feminist, Gender, and Sexuality Studies at Wesleyan University)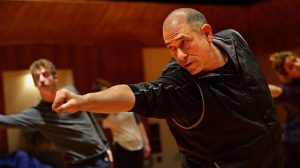 About David Dorfman
Choreographer David Dorfman is Professor of Dance at Connecticut College and the Artistic Director of David Dorfman Dance. He received a 2019 USA Fellowship in Dance, the 2007 recipient of The Martha Hill Fund for Dance's Mid-Career Award and a 2005 Guggenheim Foundation fellowship to continue his research and choreography in the topics of power and powerlessness, including activism, dissidence, and underground movements. This research culminated in underground, performed by David Dorfman Dance and 25-50 additional dancers around the world. He appeared on several episodes of A Chance to Dance, a reality show on OvationTV starring Dorfman's pals, the BalletBoyz who invited David Dorfman Dance to make a three minute video for RandomAct/Channel 4UK. We Don't Own a Dog came out of that invitation—an excerpt can be seen at https://youtu.be/QN7N-s0xcsM.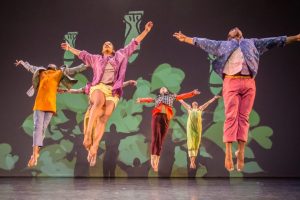 Dorfman has been honored with four fellowships from the National Endowment for the Arts, three New York Foundation for the Arts fellowships, an American Choreographer's Award, the first Paul Taylor Fellowship from The Yard, and a New York Dance & Performance Award ("Bessie") for David Dorfman Dance's community-based project Familiar Movements (The Family Project). Dorfman's choreography has been produced in New York City at venues ranging from the Brooklyn Academy of Music, The Joyce Theater, The Kitchen, Dance Theater Workshop, The Duke on 42nd Street, Danspace Project/St. Mark's Church, P.S. 122, and Dancing in the Streets. His work has been commissioned widely in the U.S. and in Europe by Bedlam Dance Company (London), d9 Dance Collective (Seattle), Eisenhower Dance Theatre (Detroit), and the Prince Music Theater in Philadelphia for the musical Green Violin, for which he won a 2003 Barrymore Award for best choreography. Dorfman toured an evening of solos and duets, Live Sax Acts, with friend and collaborator Dan Froot, most recently in New York City and at the Harare International Festival of the Arts in Zimbabwe, and a half-evening duet, Menne Awn Frauen, created with Stuart Pimsler.
Dorfman has been a guest artist at numerous institutions across the country and abroad. As a performer, he toured internationally with Kei Takei's Moving Earth and Susan Marshall & Co. Dorfman holds a BS in business administration from Washington University in St. Louis, and an MFA from Connecticut College ('81).
Source: http://www.daviddorfmandance.org